The Transformation of Juwan Staten


Back in 2006-2007, Joe Alexander was a middling, moderately productive player for a Mountaineer basketball team headed to the NIT under John Beilein in his last year in Morgantown before heading to Michigan. Alexander was known for his flashy dunks and athleticism, but hadn't put the pieces together yet to really stand out on a team searching for a star, averaging 10 points, 4 rebounds, and a block per game.
Then, under Bob Huggins in his first year as WVU head coach in 2007-2008, Joe Alexander transformed before our eyes from a guy who would contribute to a game to a guy that would dominate it. And what was so startling was that the transformation seemed to happen
as the season went along
. Just look at his game-by-game stats from that season:
http://statsheet.com/mcb/players/play ... /joe-alexander/game_stats
Suddenly the guy that was averaging 14 points per game was throwing down 30+ point games against UConn and Pitt, looking absolutely unstoppable in the process. Suddenly WVU had a guy that could go toe to toe with any college basketball player in the nation. Suddenly the ceiling of an otherwise unremarkable team went from "on the bubble" to "Sweet 16."
This moment caused me to spill a LOT of beer on the floor...
It really was remarkable how much it seemed like the whole team responded to having a legitimate star on the floor. The season turned around, the team was a blast to watch, and you never knew what highlight play he was going to pull out of his ass.
So, why the trip down memory lane, you ask?
Does any of this sound familiar?
Because it's happening again.
Juwan Staten is making a similar impact on the 2013-2014 WVU Basketball team. His improvement from last season to this season is nothing short of startling. The numbers don't tell the whole story of his evolution, but even still, they're incredible:
Last season: 7.6 ppg, 2.9 rebounds pg, 3.3 assists pg, 38% fg shooting, 0% 3pt shooting (!!!).
This season: 18.3 ppg, 5.9 rebounds pg, 6 assists pg, 52% fg shooting, 36% 3pt shooting.
He's DOUBLED nearly every meaningful statistic in the process of making a legitimate claim on Player of the Year in a conference that might have 3 of the top 5 picks in the upcoming NBA draft.
He's 1st in the Big 12 in assists, 15th in rebounds (as a POINT GUARD), 4th in steals, 4th in field goal percentage, and 2nd in points per game.
And by the way, he's 8th in the nation (and 1st in the Big 12- by a lot) in minutes played with 37.4. (That's out of a possible 40, for the math-averse.)
He never leaves the floor. He's too valuable.
And he's the main reason the Mountaineers have won 4 out of their last 5 Big 12 games, beating at least 3 surefire NCAA Tournament teams in the process, putting WVU squarely on the NCAA Tournament bubble and in 4th place in statistically the hardest conference in the nation when just a month ago an NIT bid seemed optimistic.
But like I said, the numbers (as amazing as they are) don't tell the whole story.
There hasn't been a game this year where Juwan Staten wasn't the fastest guy on the floor. His ability to create off the dribble gives the Mountaineers a go-to option at the end of any shot clock or late-game situation. He can either get to the basket or pull up for a 15-foot jump shot that honestly surprises you when it DOESN'T go in.
Nice ankles you got there. Be a shame if someone was to break 'em.
All of these accolades and accomplishments are all the more remarkable when considering where Staten came from last season. He was memorably benched by Coach Huggins halfway through the Season From Hell, and many stories looped him in with some of the headaches that caused nearly the entire roster to turn over in the offseason after a Huggins Housecleaning.
Staten admits that his head just wasn't in the right place last season, as evidenced by the following quote from
this AP article
:
Quote:
Staten said last year he played "with a lot on my mind, just second guessing myself a lot. Not really focusing on me, just a lot about what people thought about me or what they were saying about me instead of just going out there and like my dad says, 'Throw hell to the wind, play basketball.'"
Now, there isn't a Mountaineer who gets more praise from Coach Huggins in the press, like this quote from that same AP article:
Quote:
"He's been terrific," said West Virginia coach Bob Huggins. "I think he's really studied film. He's trying to learn the game. It has a lot to do with his decision making. He's just gotten so much better with his decision making - of when to go, when not to go, getting the ball to other guys. And he's worked really, really hard on just shooting. When he makes that 17-18 foot jumper, he's hard to guard."
And so it is that a guy who was otherwise ordinary last season came to strike fear into every opponent WVU plays this season. There isn't a team in the Big 12 that doesn't place their primary defensive emphasis on stopping Juwan Staten, despite playing on a team with solid scoring options like Eron Harris and Terry Henderson. (Both guys who, myself included, nearly every WVU fan expected to be the main engines that drove the Mountaineers this season.)
The Mountaineers now not only have a solid option at the most important position in basketball, but they might have the BEST option at the most important position in basketball.
They have a guy that can look eye to eye with anyone in the nation and think "we have a chance."
And some may say they've never seen anything like this before.
But we have.
And it was freakin' awesome.
And it looks like it might be again.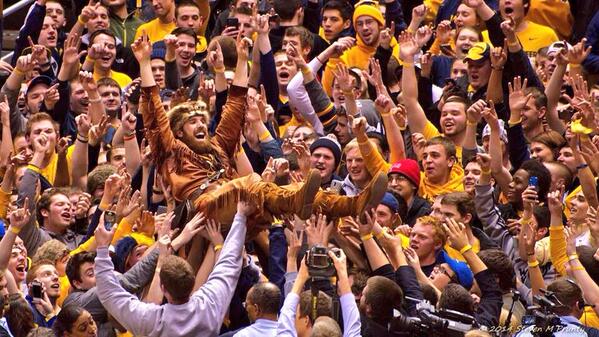 Scenes like this one after the 25-point win over #11 Iowa State on Monday hardly seemed possible a month ago, but Juwan Staten has turned WVU into a legitimate threat.
Trackback URL of this entry
http://www.wemustignitethiscouch.com/modules/weblog/weblog-tb.php/3362
The comments are owned by the poster. We aren't responsible for their content.