Mountaineer basketball season post-mortem


Good Lord, it's been a depressing few months for fans of Mountaineer athletics.
The football team finished 7-6, including an embarrassing loss in the Pinstripe Bowl against an unranked Syracuse team.
The basketball team is suffering their worst season under coach Bob Huggins since his return to the Mountain State, with a record of 13-18 and more blowout losses in a month than I can remember in all 5 previous seasons combined.
"How did we ever win 13 games?"
"It's a miracle."
The basketball team is a particularly vexing problem for Mountaineer fans, as none of us have ever seen this level of ineptitude from a Bob Huggins-coached team before.
I didn't write a basketball season preview article this season, but that turned out to be a blessing in disguise because I would've missed our final record by about 10 games. On paper, this looked like a typical Bob Huggins West Virginia Basketball Team. While we knew it would be hard to replace the Rightful 2012 Big East Player of the Year Kevin Jones, it looked like Aaric Murray would be able to step into the frontcourt to replace some, if not all of Jones' production. Truck Bryant was such a rollercoaster that it was presumed that improvement in the backcourt by last years' freshmen Jabarie Hinds and Gary Browne, combined with the steady hands of transfer Juwan Staten would mean addition by subtraction.
Boy would I have been wrong
if I hadn't been too lazy
to post THAT blog...
What has resulted has been a full-on apocalypse of a WVU Basketball Season. Quick- name the most impressive win for the the Mountaineers during the 2012-2013 season...
I'll give you a few seconds...
Ready?
Eastern Kentucky. (63rd in RPI according to Statsheet.com.)
Other than the mighty Colonels of Eastern Kentucky, the Mountaineers haven't beaten any team this season with an RPI higher than 123 (And oh, how much do you love WVU in the Big 12, Texas?)
The only conference wins for WVU came against Texas (twice), TCU (twice), and Texas Tech. And if those schools look familiar, it's because they're the only schools in the Big 12 who are further down in the standings than WVU.
So if it didn't look like it was going to be this bad at the beginning of the season, and the season has gone so far off the tracks, that leaves one burning question...
What went so... so... wrong?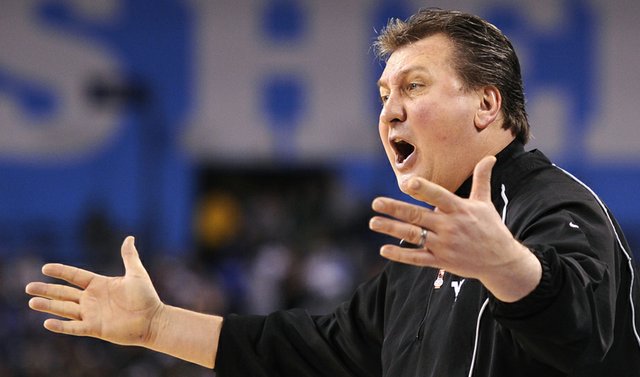 "NO SERIOUSLY, WHAT'S WRONG???!?!?"
They can't shoot.
This shouldn't come as any earth-shattering surprise for any Mountaineer fan with a working central-nervous system.
WVU shoots an even 40% from the field, good for 309th in the country.
They suck at 3-point shooting. (30.6%- 302nd nationally).
They suck at 2-point shooting. (44%- 309th nationally).
They just flat-out can't make the basketball go in the hole. Which, you know, seems to be helpful in winning basketball games.
But more specifically...
The guards can't shoot.
Gary Browne
seems like a nice kid. Plays hard.
What does he do well?
He's a decent ball-handler and average defender. He shoots 32.5% from the field and he hits 20% of his 3-point attempts en route to 6 points per game in 20 minutes of playing time. He's also about a 1-1 assist-to-turnover margin.
In other words, what does he do well? What does he do that tells you he needs to be playing 20 minutes a game for a Division 1-A major conference team?
Jabarie Hinds
is a solid defender, also plays very hard. He shoots 35% from the floor and 27% from 3-point range, scoring 7.5 ppg. And he actually has an assist-to-turnover ratio that is slightly below 1-1.
Hinds is basically a point guard and sometimes plays in the 2-guard spot, and he can't hit more than a third of his shots. So what does he do to warrant playing 23 minutes per game?
Juwan Staten
played more minutes than any other player on the Mountaineer roster (28 per game), shot 37.5% from the floor and a
stunning
(for a college point guard) 0.0% from 3-point range, for 7.8 ppg.
"Well yeah, but he's a distributor, back off his shooting stats."
His distribution amounted to a little over 3 assists per game.
So what does this player do that says that he should play more minutes than anyone else on a Big 12 basketball team?
Dean Wormer is just as displeased as the rest of us by Staten's 3-point shooting.
These were 3 of the top 5 Mountaineers in terms of minutes played, and I can't really tell you anything that they do well. And this is 2013 NCAA Basketball. This is an era when smaller schools are experiencing unprecedented success, many believe because of the equalizing factor of a 3-point shot that might be too easy for college kids.
And the Mountaineers routinely trot out a lineup with FOUR guards on the floor between Staten, Hinds, Browne, and freshman Eron Harris.
Yet even with Harris picking up the slack on 3-pointers for the Mountaineers lately, those 4 guards, guys that account for 4 of the top players in terms of minutes per game for WVU, shoot a combined 77-268 from 3-point range, or 28.6%.
It goes without saying that you can't win in 2013 with guards that can't shoot the 3. Even if WVU had an awesome interior game (they don't), it wouldn't matter because opposing defense can clog the lane daring the Mountaineers to beat them from 3. And 3 out of 4 times, they would be right.
There are too many guys on the team that don't do anything particularly well.
We've gone over the guards.
Kevin Noreen can rebound a little. (4 per game in 18 minutes of playing time.) What else?
Keaton Miles is a decent defender. What else?
Kilicli would catch the ball at the top of the circle on offensive sets nearly every time down the floor. What's he going to do with it out there?
Good teams present match-up problems because when you focus on taking something away, they can beat you with another way of playing.
The Mountaineers don't do anything particularly well, so when a team like Iowa State sends 3 guys at
Deniz Kilicli
because they assume the only way to beat them is through the post-up game, WVU responds with absolutely nothing.
But here's something I want to make sure to point out in this post-mortem of the Mountaineer Basketball Season from Hell.
Don't blame this poor season on a lack of effort. These guys play hard.
In too many places, I've seen people criticizing this team for not having any heart. For failing to make the effort necessary to win games. For slacking.
This may have been true very early in the season, but it hasn't been true for most of the year.
Saturday's game against Iowa State illustrated a trend for the Mountaineers that you don't see in many college basketball teams. Poor play leads to huge deficit, but they didn't give up, stormed back from a 20 point deficit to bring the game to 4 points, then couldn't push it over the top in the end.
That happened more than a few times this season, including earlier this year against that same Iowa State team, against Kansas State in mid-February, and against Baylor.
Effort isn't the problem. These guys play HARD.
I realized what the problem was midway through the season, and once I did, the anger and frustration that I was feeling from watching these games came to a screeching halt.
They just aren't that good.
It's as simple as that.
This team just isn't very good. There's no one to blame unless you want to blame Coach Huggins for recruiting a group of guys that simply don't play well together.
They do what they can, but at least this year, that wasn't nearly enough to win basketball games.
But keep in mind that this season is so totally out of the character of Huggins coaching years that we're breaking all kinds of personal records for him. First losing conference record in any league since the Reagan Administration. First time losing 6 games in a row in his career. Most likely it will be the first time he's missed the postseason since Deniz Kilicli's been
alive
.
So things will be better. Freshmen Eron Harris and Terry Henderson have given the Mountaineer faithful reason to believe that the future will be brighter. WVU has a solid recruiting class coming in that may solve some of the logistical problems we have right now.
Just look on the bright side.
It can't get worse.
Trackback URL of this entry
http://www.wemustignitethiscouch.com/modules/weblog/weblog-tb.php/3354
The comments are owned by the poster. We aren't responsible for their content.