WVU loses an unthinkable fifth straight game, falls to OU


By Dusty
On a night when Tavon Austin will be remembered for doing what no Mountaineer has ever done, the final score ultimately showed what WVU has now done five times in a row.
Wasting Austin's school- and Big 12-record performance, WVU lost its fifth straight game on a last-second touchdown to Oklahoma, 50-49 Saturday night in Morgantown.
WVU hasn't lost five straight since Don Nehlen's 1986 crew went 4-7. It was the first time the Mountaineers had dropped three home games in a season since 2001.
WVU (5-5, 2-5 Big 12) continued its fall from grace, matching the season-opening 5-game winning streak (and Top 5 ranking that came with it), with an 5-game skid of futility.
The loss leaves WVU with just two chances to become bowl eligible this season, beginning Friday afternoon at Iowa State. The 'Eers finish the season at home against Kansas on Dec. 1.
The Oklahoma game was the date everyone penciled in before the season began, and despite the steep decline this Gold and Blue campaign has taken, it proved to be every bit as exciting as fans thought it would be during the preseason.
Austin showed time and again his elusiveness, speed and agility and nearly without equal on the gridiron; Geno Smith and Stedman Bailey were a superb supporting cast; and WVU rallied from a 31-17 halftime deficit to take the lead two different times in the fourth quarter.
In fact, WVU held that final lead until just 27 seconds remained, and the Sooners were down to their final play. But as has been the case all season, the beleaguered WVU defense couldn't muster a key stop when it absolutely, positively needed most.
OU's Landry Jones, who broke his own career record with 554 yards passing and 6 TDs, threw a perfect slant to Kenny Stills on 4th down from the WVU 5, putting the Sooners ahead for good.
"They ended up making one more play than we did," West Virginia coach Dana Holgorsen said in
this SI.com article
.
Noted WVU enthusiast Cookie Monster reflecting the views of all Mountaineer fans.
The second-year coach was quoted in
this WV Gazette article
as saying, "The kids played hard. How many losses like this do we have to go through?
"I don't know. We've got two games left. Hopefully we can get back out there and get to work and try to come up with a couple of wins. It's a tough loss, but we have to regroup.''
Despite breaking instead of bending in key situations, WVU's defense didn't hold a monopoly on the miscues.
Tyler Bitancurt shanked an extra-point attempt wide after WVU had cut its deficit to just 8 points late in the 3rd quarter. Smith, despite playing much closer to the stature of his first 5 games, gave up two interceptions which would have led to as many field goals had OU not missed a 37-yarder wide.
The offense wasted a rare defensive stop when it failed to convert a crucial 4th down deep on the Oklahoma territory near the end of the 3rd quarter.
With little to no faith in the kicking game, head coach Dana Holgorsen opted to go for it on 4th-and-1 at the OU 14, but gave the ball to Andrew Buie instead of Austin, and OU's defense stopped him short.
Even after WVU got an interception and scored to make the count 38-36 in the 4th, Bailey dropped a 2-point conversion pass that would have tied it up. Smith also failed on a 2-point conversion attempt late in the 4th quarter.
The last-minute rally was the first time in 16 tries that Oklahoma overcame a 4th quarter deficit to win.
WVU and OU combined for 1,440 yards. The 778 yards of WVU total offense was the most ever surrendered by the Sooners.
That total was keyed by Austin's stunning performance.
In his first game starting in the backfield since high school, Austin had 344 yards, breaking KayJay Harris' 2004 record of 334 yards.
"We hadn't been able to run the ball, so we had to do something," Holgorsen said in
this Daily Mail
article. "Obviously, he goes for 344 yards, it probably should have been done four years ago."
Including receiving and returns yardage, Austin finished with 578 all-purpose yards (a Big 12 record), a total just 6 yards shy of the NCAA record of 578.
That total smashed WVU's previous record of 356, set by Garrett Ford Sr. against Pitt in 1965.
Austin also became the first player in WVU history score by rush, reception, punt return and kickoff return in the same season.
West Virginia's 778 yards of total offense was nearly the most ever posted by a losing team, falling just 13 yards away from the NCAA record of 791 by Nevada in a 2001 loss against San Jose State.
The Sooner defense had only surrendered 3 passing touchdowns all season, but Smith managed 4 scores to go with 20 of 35 passing for 320 yards. The senior was the first QB this season to pass for more than 300 yards on the OU defense.
Bailey had 13 catches for 205 yards and four touchdowns, his second straight 200-yard receiving game.
But OU managed to win with 662 yards of offense of its own. Jones may well be the fifth straight WVU opponent to win Big 12 offensive player of the week honors if he beats out Austin on Monday.
The Mountaineers have allowed 50 points in four games this season, while giving up 49 and 45 in two others.
"The kids have practiced so well the last three weeks and it showed," defensive coordinator Joe DeForest said in the previously cited Gazette article. "I know we gave up 50, but in spurts we played well.''
In spurts, Custer's army fought well.
DeForest's crew certainly had some hard hits, including a WWE-style power slam of Stills to set up the fateful 4th down at the game's end. WVU forced two turnovers, both of which led to touchdowns.
But each time WVU cut away at its nearly game-long deficits, the defense undercut the effort by allowing big plays time and again.
Oklahoma looked in control early on, converting three 3rd down tries to key 13-play, 75-yard drive for a 7-0 lead.
Smith's first interception came soon after, and OU converted that into a 32-yards field goal and a 10-0 lead.
West Virginia finally responded with Austin leading the way, rushing three straight times at one point for 42 yards. The journey stalled at the OU 2, and Holgorsen opted for a 19-yard field goal instead of trying to convert a 4th-and-1.
West Virginia got another opportunity for some offensive drama after forcing a fumble. Facing a 4th-and-goal at the 1, this time Holgs went for it, and Buie converted with a clutch 1-yard score.
As has been the case often this season, WVU's opponent followed immediately with a counter-punch. This one came two plays later when Jalen Saunders converted a Jones pass and at least three missed tackles into a 76-yard score.
The Sooners piled on after WVU failed to give Austin a touch and quickly went 3-and-out as a result.
OU went 76 yards in 8 plays, needing just over 3 minutes to make it 24-10 on a Jones 4-yard TD strike to Stills.
WVU narrowed the gap on with a 33-yard strike to Bailey, who had beaten two defenders, to make it 24-17. The score was set up by a 41-yard completion to Austin on the possession's first play.
It didn't last, though, as OU got a 48-yard score four plays later as Damien Williams ran nearly untouched to pay dirt.
Austin began his incredible second half with a 74-yard rush to the end zone, making it 31-24, but Oklahoma needed just 5 plays to go 80 yards for its own score.
A short pass that went for 51 yards keyed the journey, and an 11-yard TD pass to Stills made it 38-24.
The back-and-forth continued as WVU responded with its best drive in the last five games, going 92 yards on 17 plays. Austin capped it with a 4-yard score, but Bitancurt's missed PAT left the score at 38-30.
As recapped earlier, Austin broke a 56-yard run on the ensuing touch, but WVU turned the ball over on downs at the opposing 14.
Broderick Jones intercepted an ill-advised Jones pass at the WVU 3 to end a Sooner threat, setting up another WVU score.
This time it was Smith and Bailey, who connected three times for 72 yards, including a 4-yard score. The 2-point try failed, though, leaving WVU behind, 38-36.
Momentum remained with the home team, as the defense tightened and forced OU to punt. Austin followed with a 54-yard breakout, and soon after, Smith found Bailey for an 8-yard score to give the Mountaineers an improbable 43-38 lead.
But the defense returned to its old ways, allowing Jones to shred it for passes of 16, 29, and 23 before giving up a 7-yard TD to Stills on a 3rd-and-6 attempt. The PAT made it 44-43 with 4:10 to play.
Austin struck again on the next play for 47 yards, and Smith found Bailey for a 40-yard score, sending the Gold and Blue crowd into a frenzy as WVU went up 49-44. Once again, though, the 2-point try was no good, as Smith was stopped short on a broken play.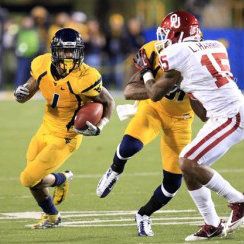 Even though WVU lost, this will be remembered as the day that Tavon went OFF.
Oklahoma took the punch and came right back unfazed, moving downfield with a typical big play -- this one a 36-yard completion to the WVU 12.
From there, the WVU defense forced the 4th-and-3 that led to the winning score. The defensive stand may have an ill-advised, though, as WVU could have led OU score and had more time on the clock to rally.
But the 21 seconds that were left after the kickoff wasn't enough, and Smith's hail mary try was batted down outside of the end zone.
The teams combined for 31 points in the fourth quarter, including four touchdowns over the final seven minutes.
WVU travels to Iowa State on Friday at 3:30 p.m. on ABC.
Trackback URL of this entry
http://www.wemustignitethiscouch.com/modules/weblog/weblog-tb.php/3351
The comments are owned by the poster. We aren't responsible for their content.
Poster
Thread
msaul37

Posted:

11/22/2012 2:54 pm

Updated:

11/22/2012 2:54 pm

From:

Alkol, Lincoln County

Re: WVU loses an unthinkable fifth straight game, falls t...

our offense played well enough to win the game.

our defense and special teams once again screwed us.

the sad thing is.. tavon beat kayjay's record.. and it won't be remembered.

and just imagine if coaches had some sense.. where we could have been if we had used tavon like this before.