Mountaineers serve up a Texas-sized upset


The game that many Mountaineer fans circled on their calendars the moment that WVU joined the Big 12 came and went on Saturday evening, and those who kept waiting until that game to declare if the 4-0 Top 10 team was for real got their answer.
Playing in front of the largest crowd in the history of Texas' historic Darrell K Royal-Memorial Stadium (announced at 101,851) as well as the largest crowd to ever watch West Virginia University play, the Mountaineers again overcame shaky defense to rally to a wild 48-45 statement game in Austin.
In front of a crowd that Texas Coach Mack Brown described as one of the loudest he'd ever seen in his 15 years at Texas, the Mountaineers kept their composure, slowing down a fearsome Texas pass rush with an element of the Mountaineer attack no one foresaw: the run game.
Sophomore Andrew Buie rushed 31 times for 207 yards and 2 touchdowns as Texas continued to leave the box empty in an effort to slow down Geno Smith and the Mountaineer passing attack. Taking what the defense was giving him, Geno checked down to run after run to churn out yardage.
"We did commit to the run," Holgorsen said in
this espn.com article
. "That was something we talked about early in the week, and there weren't any tricks, either. We lined up and we just ran it right at 'em. We felt like that was gonna be the difference. If we could do that, it was going to alleviate some of the pressure on Geno."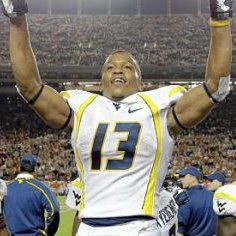 Take a bow, Buie. You earned it.
The Mountaineers needed every yard Buie could scrounge as their kicking game and defense once again left something to be desired, although the defense did eventually make some key stops late in the game. Ranking #102 in D I-A in total defense and 117th in pass defense, the Mountaineers' porous defense caused the Mountaineers to go into full shootout mode for the second week in a row. Meanwhile, Tyler Bitancurt had a 41-yard line-drive field goal attempt blocked at the line and offered a meek 26-yard punt.
The defense did manage a few key stops late in the game, though, and seemed to display at least a moderate amount of improvement over the unit that gave up 700 yards and 63 points to Baylor at home the week before.
"It was a tremendous team victory. Defense came up with some big stops in key situations," Holgorsen said in
this article from yahoosports.com
. "I thought they showed a lot of improvement."
A pivotal series of the game followed one of Geno Smith's few mistakes of the season, a forced fumble (one of two that the ferocious Texas pass rush forced) that left Texas primed to score deep in Mountaineer territory. After two minimal gains and a botched snap forced a 41-yard field goal that sailed wide, the Mountaineer defense could justifiably say for the first time all season that they had bailed the offense out, rather than vice versa.
Additionally, the Mountaineers were able to secure a key 4th down, 4th quarter stop on defense after a pass broken up by senior Pat Miller, a player almost universally singled out for his poor play in the Baylor game the week prior.
"It was a tough week mentally because it's hard to bounce back from a game like that. There were a lot of people criticizing me personally. But you know, we just feed off that," Miller said in the previously-cited yahoosports.com article.
WVU also secured a fumble in the second quarter after this thunderous hit by true freshman safety Karl Joseph:
The stars at night... Are bold and bright... Deep in the concussed head of that kid from Texas.
For his part, senior Heisman-leading Mr. Everything QB Geno Smith did everything he needed to do in the face of unrelenting pressure to keep the Mountaineers undefeated, finishing 25-35 for a workman-like 268 yards and 4 touchdowns despite wearing the Texas burnt orange of the pass rushers in his face all evening.
"There weren't a lot of times when we weren't draped all over the guy when he was trying to throw," Texas defensive coordinator Manny Diaz said in
this espn.com article
. "You have to give him a lot of credit, his receivers a lot of credit."
Indeed, Smith was forced into five 4th-down situations during the course of the game and converted all five. A failure on any one of those conversion attempts could have easily swung the game in the opposite direction.
"They put me under duress a bit," Smith said in the previously-cited espn.com article. "I just get up and continue to play."
Smith overcame critical drops by J.D. Woods and even Andrew Buie inexplicably tripping over his own feet en route to what would have been an easy touchdown, forcing the Mountaineers to eventually settle for a Bitancurt field goal. (Bitancurt did eventually settle down to convert 2 key FG's.)
Yes this is 6 and a half minutes long. Yes, it's worth it.
Following the game, Mountaineer fans in Morgantown engaged in the very act which gives this site its name (much to the hemming and hawing of city officials and WVU administration) to celebrate what must easily be considered one of the signature road wins in Mountaineer football history over a team favored by a touchdown.
The huge road win over #11-ranked Texas and timely losses by 3 higher-ranked schools moved the Mountaineers up to 4th in the USA Today Coaches' Poll (aka the poll that counts) going into this weekend's game against Texas Tech.
For his part, Coach Holgorsen isn't particularly concerned with others' perception of his team.
"You know me pretty well. I don't really care what people think, to be honest,'' Holgorsen said in
this Charleston Gazette article
. "We're going to coach hard and we're going to come up with a game plan and we're going to try to go out there and execute it. What the outside looking thinks doesn't affect what we do.''
WVU faces unranked Texas Tech this Saturday in a nationally televised network game on ABC at 3:30 pm.
Trackback URL of this entry
http://www.wemustignitethiscouch.com/modules/weblog/weblog-tb.php/3348
The comments are owned by the poster. We aren't responsible for their content.
Poster
Thread
wooddash

Posted:

10/12/2012 6:25 pm

Updated:

10/12/2012 6:25 pm

Pitt Hater

Re: Mountaineers serve up a Texas-sized upset

Thanks, Jude. I still can't believe of all of Texas' games, we generated their largest crowd.

msaul37

Posted:

10/12/2012 7:25 pm

Updated:

10/12/2012 7:25 pm

From:

Alkol, Lincoln County

Re: Mountaineers serve up a Texas-sized upset

a few things from this game.. buie had a break out game, but i think i could've got a few yards on their defense. but it's still great to see one of our rushers get 200+ vs. a good opponent. i think apart from a few blown coverages and luck from the refs-especially not reviewing texas' last td.. and no penalty for facemask/late hit on texas after our last td, we had this game. but we really need to work on our special teams. at some point, we'll have to make a fg or punt..