Offensive eruption in Morgantown- WVU 70, Baylor 63


By Dusty
Let's just go ahead and state the obvious: Nobody from West Virginia's or Baylor's defense needs to make any plans for playing on Sundays.
Not after WVU's insane Big 12 debut against the Bears, which bitch-slapped a bevy of conference and school records as part of a 70-63 Mountaineer victory that caught the attention of the nation.
Everyone expected the game to be fast-paced and scoring-friendly, but few could have predicted a combined 1,507 yards of total offense and 133 points.
"Both offenses played well," WVU head coach Dana Holgorsen said in
this article from the Charleston Gazette
. "To say the defenses didn't play very well is an understatement. We have to keep improving on what we're doing. We have eight more conference games. We have to get better."
Hope you like touchdowns.
It was the highest-scoring game ever between two Top 25 teams (but the game would have set the record for most points with even just one Top 25 team involved.)
The Mountaineers had never allowed as many points at Mountaineer Field. The 63 allowed were the most since a 130-0 loss to Michigan in 1904.
"I did a poor job of preparing them and I did a poor job of calling the game,'' West Virginia's rookie defensive coordinator, Joe DeForest said in
another Gazette article
. "It all falls on me.''
West Virginia (4-0, 1-0 Big 12) gained 807 yards vs. 700 for Baylor, which saw its 9-game winning streak snapped. WVU set school records for yards gained and for yards allowed by an opposing offense.
Six different receivers logged at least 100-yard days, with WVU's Stedman Bailey and Baylor's Terrance Williams breaking the practically un-heard of 300-yard milestone. Bailey set a new Big 12 record with 303 yards receiving before having his newly-minted mark broken by Williams' 314 yards by game's end.
The new conference mates set an FBS record with 19 touchdowns, while the Bears (3-1, 0-1) tied an FBS standard for most points by a losing team.
"It's a way of life versus those offenses," said DeForest in the previous article, after officially being named Morgantown's public enemy No. 1. "You just have to make one more play. It's not acceptable, but that's the way it is."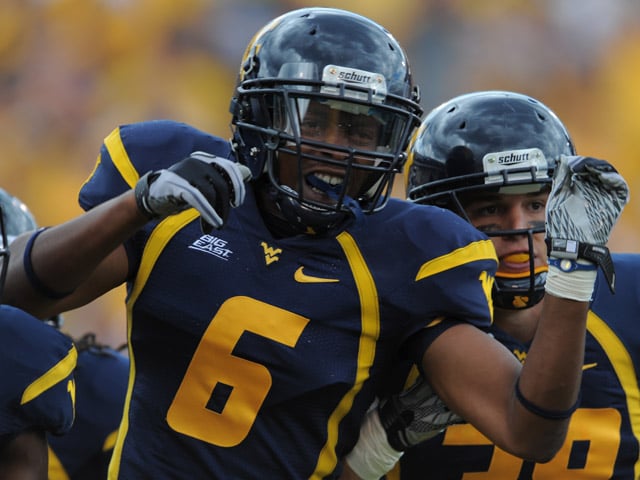 A rare photo of the front of Pat Miller's jersey.
(Photo by wvillustrated.com
here
)
While this frenetic pace won't happen every game, Holgorsen says to expect frequent shootouts in this new league frontier.
"It's a very up-tempo league," he said in the same article. "We understand it's going to be a very up-tempo league. We have to get better defensively at playing at a high-tempo level."
"What do you do? If you've got an answer, tell me,'' DeForest said. "Ultimately we have to be better at tackling, at playing the ball in the air and executing what's called.
"They never outschemed us. There was never a point where we said, 'Holy ... we didn't cover that [in practice].' They did exactly what we thought they were going to do. They ran four routes and they ran four runs. And that's it.
"But apparently we did a poor job as a coaching staff of being able to stop those four passes and four runs. And if we're going to contend in this league, we've got to fix it.''
West Virginia quarterback Geno Smith garnered the lion's share of the national chatter, posting a Tecmo Super Bowl-like (or Madden-like for those who don't share my fondness of the Nintendo Classic) 656 yards passing and eight touchdowns.
Geno is now without a doubt the front-runner for the Heisman Trophy, after throwing more touchdown passes Saturday than incompletion (six).
In his typically humble way, Smith blew the assorted post-game media away by saying it wasn't his best work on the gridiron.
"Statistically, it's my best game ever," Smith said
here
. "But I think I've had better games. … It's more about the team, and I think it just lets us know that we're going to have to battle it out every week against some really tough teams in the Big 12.
"I could care less about a Heisman Trophy. The big thing for us was that we won the game today. We're on a mission, and we want to win them all."
He completed 45-of-51 passing, pushing through a school-record 14 straight at one point. Through four games, Smith still hasn't throw an interception while completing 141 of 169 passing for 1,728 yards and 28 touchdowns (83.4 completion percentage.)
But while Geno grabbed all the national headlines this week, one can't help but feel a little sorry for Baylor QB Nick Florence. Already in the shadow of last year's Heisman winner, Robert Griffin III, whom he replaced this season, Florence mostly went toe-to-toe with Geno, completing a more modest 29-of-47, but logging five TDs and 581 yards, breaking RGIII's single-game school record. The senior did have one pick, but was understandably overshadowed in would have been a standout performance any other time.
But this isn't a Baylor article, so let's laud the Mountaineers a little more.
Bailey continued to destroy the record ledger, pulling in 13 passes for 303 yards and five scores, while Tavon Austin posted a meager 14 catches for 214 yards and two scores. And this is all without much of a threat from the WVU ground game, which was without starter Shawne Alston for the second straight contest.
Andrew Buie tried his best to pick up the slack, rushing 25 times for 82 yards and two scores, while J.D. Woods pulled in 13 balls for 114 yards and a TD.
But despite the unbelievable offensive totals posted by the Gold and Blue standards, it was Woods and Dustin Garrison who had to make what were arguably the game's key plays to ice the win.
WVU held the lead for the vast majority of the second half, but not even a 21-point lead (at 56-35) provided much comfort. That proved to be wise, as Baylor quickly cut away at its deficit with a pair of scores sandwiched around a defensive stop to keep the pressure on WVU.
The Bears got with a touchdown three different times in the fourth quarter, but the Mountaineers were able to respond in kind with a pair of scores. Leading 70-56 after a rare drive that took 5-plus minutes, West Virginia couldn't dig in its heels.
The Bears moved down the field efficiently in 10 plays, cutting the lead to 70-63 with a Florence TD pass to Williams. Though that produced the game's final score, the intensity was far from over.
Baylor opted not to go for the onside kick and the token score a recovery would likely produce, instead hoping against hope that WVU's offense would somehow come off track. The strategy failed, despite the Bears' three timeouts still being available, as WVU converted with a spectacular Woods one-handed grab that stood out during a day of highlight-reel plays. The grab set up a first down and forced the Bears to burn one of the timeouts soon after.
"If you do it there and don't get it, then basically the game is over,'' head coach Art Briles said in a previously-cited article. "You play percentages. We played percentages there and it didn't work out.''
Garrison then provided his lone highlight of the day, converting an absolutely critical 3rd-and-1 with a 17-yard break out, setting up a new set of downs and giving the Mountaineers the ability to run out the clock.
"I've been in this league going on 10 years now and it's the culture of the Big 12, but not everyone is like this,'' Holgorsen said in
this Gazette article
. "It will be different next week. Texas has an unbelievable defense.''
After an extremely tense afternoon, the sound of "Country Roads" offered a welcome reprisal.
The No. 9 Longhorns (4-0, 1-0) are coming off their own thrill-a-minute victory, holding off Big 12 champion Oklahoma State on the road, 41-36.
The defense Holgorsen praised sounds a bit more suspect when you look at the box score, which shows the Cowboys racking up 275 yards rushing (with a 6.9 yards per rush average) and 301 yards passing against UT.
Plenty of bloggers are blasting the Longhorns for two straight games with a boatload of missed tackles and blow assignments. They will pay dearly if Geno is on point.
But Texas also showed its own offensive acumen, with David Ash passing for 304 yards and three scores. On the season, the second-year starter has completed 78 percent of his passes for 1,007 yards, 10 scores and one interception.
The Horns managed only a mediocre performance on the ground last weekend, gaining 136 yards on 42 carries, but the backfield is 19th in the nation with an average of 228 yards per game.
The UT offense is 9th in the nation with an average of 47.3 point per game, while the defense is allowing 21 points to opponents.
West Virginia is 3rd in the nation with 53 points per game, but have allowed 32.5 on defense, ranking them 96th overall.
Kickoff is set for 7 p.m. Saturday night on FOX.
Trackback URL of this entry
http://www.wemustignitethiscouch.com/modules/weblog/weblog-tb.php/3347
The comments are owned by the poster. We aren't responsible for their content.
Poster
Thread
msaul37

Posted:

10/12/2012 7:20 pm

Updated:

10/12/2012 7:20 pm

From:

Alkol, Lincoln County

Re: Offensive eruption in Morgantown- WVU 70, Baylor 63

pat miller from last year, as it were..

and i swear that td before halftime was NOT a td.. baylor qb was over the line in my opinion.