WVU tops Maryland 31-21


By Dusty
West Virginia's victory over Maryland Saturday can be broken down into two categories: Tavon Austin; and people who did not play as well as Tavon Austin.
Starting with the most positive element from the closer-than-expected 31-21 victory, Austin must have seemed like Bugs Bunny in that old Bronx Bombers cartoon to Maryland.
The senior all-purpose threat, a Baltimore native who has loved nothing more than to break off a cleat in the Terps' collective backside, did it again Saturday in his final game against Maryland. Austin accounted for half of WVU's offensive output, catching 13 passes for 179 yard and three scores.
The senior's offensive fireworks helped carry the day for WVU (3-0), which needed the boost after a day in which the team struggled to match the output of the season's first two games. The poll voters certainly seemed to notice, as the Mountaineers dropped to No. 9 in the AP poll despite the victory. WVU remained No. 7 in the coaches' poll, which is the only one that actually counts for anything besides journalistic pride.
As part of his outstanding day, Tavon took over West Virginia's top spot for career receptions, unseating Jock Sanders from the record he set a few years back.
"It was my last time playing Maryland," said Austin in
this article
. "So there was a little bit on the line for me."
Austin now has 208 career receptions, breaking the mark of 206 set by Jock Sanders. In three games against the Terps, Tavon had 31 catches for 407 yards.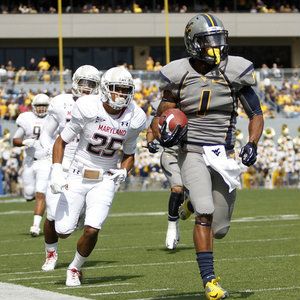 Tavon Austin had something to prove against Maryland. You wouldn't like Tavon Austin when he has something to prove.
Reported Heisman leader Geno Smith needed the consistency Austin provided, as he was somewhat off his game for most of the day.
Smith was sacked for the first two times this year and had more incompletions in the first half than he had in the first two games combined. Smith completed 30 of 43 passes for 338 yards and three touchdowns - good numbers for a mere mortal, but considerably off the lofty standards the senior has set lately
"Me personally, I think I did OK," Smith said in
this article from the Charleston Gazette
. "I wasn't as sharp as I wanted to be. I missed some throws and reads and started off kind of slow. That's a credit to Maryland. They did a good job of mixing up things and giving us a lot of different looks.
"We sorted it out and figured it out as the game went along. Obviously, we want to start a lot faster, but the offense did nothing to hurt our team. We didn't have any turnovers or major penalties - aside from that one [a holding call against Nick Kindler] in the fourth quarter. I think we did a pretty good job."
After setting a record for points scored in a three-game stretch, WVU fell back to earth in its final non-conference contest of the game, finishing with 363 total yards against a team ranked eighth nationally in total defense and sixth in pass defense.
The offensive line was bullied for most of the day, with Smith seeing pressure consistently for the first time all year. The holes just weren't there for the backfield to break through, and the run game was especially atrocious without starter Shawne Alston, who couldn't go with a thigh bruise.
After averaging 226 yards rushing against Marshall and James Madison managed just 25 yards Saturday, and also lost blocking back Ryan Clarke to an a leg injury as well.
Andrew Buie managed just 33 yards, while Dustin Garrison made a lackluster return with just two carries for 1 yard.
"We didn't play our best offensively," said West Virginia coach Dana Holgorsen in the previously-cited AP article. "But it was enough."
You know you're having a pretty good year when your QB goes 30/43 for 338 yards with 3 TD's and no INT's and people think you had a bad game.
The defense looked suspect as well, allowing Maryland 351 yards - nearly 100 more than the average for an offense that came in ranked 119th nationally. Basic tackling skills seemed to have forsaken the Mountaineers on many key plays, allowing the Turtles to crank out big gain from small plays.
Freshman QB Perry Hills posted 305 yards and three touchdowns, and the Terps had gained more yards at the half against WVU than they did in four quarters in last week's loss to Connecticut.
Tavon Austin wannabe Stefon Diggs had his moments, scoring two touchdowns and showing flashes of brilliance for the future. But for now, Austin couldn't help giving the rookie Terp a little tweak after the game.
"I went to him at the end of the game and told him that he was a good player -- but I couldn't let a young guy outshine me," Austin said in the previously-cited AP article.
It wasn't all doom and gloom defensively, though, as the unit produced five sacks and managed semi-consistent pressure on the Maryland QB and running backs. The defense bent but didn't break and produced three key turnovers to keep Maryland from ever taking control of the contest.
That the contest would be as tough as it turned out to be wasn't evident at the start, as WVU quickly jumped ahead 14-0 thanks to a defensive score and a big Austin catch and run. After that, though, the Mountaineers looked out of rhythm a lot of the time, punting on four of five possessions at one second-half stretch.
The first score came as a thing of beauty, with Darwin Cook timing the snap count with his blitz from safety. He broke through the line untouched just as the ball was snapped, forcing the football loose from Hills as he turned from under center. Doug Rigg picked up the errant pigskin and rumbled 51 yards to the end zone to make it 7-0.
WVU/Maryland hasn't been much of a rivalry lately. That doesn't stop the Maryland guy in the John Deere hat from saying that WVU isn't "classy."
After an uneventful Terp possession, WVU quickly went up by two scores with a drive that needed just 31 seconds. Smith showed poise in the pocket by taking a near sack and turning it into a 34-yard pass to Andrew Buie, who added some yardage with some shake-and-bake after the catch. On the next play, Austin took a pass across the middle, bounced off one tackler, and took to the right sideline to go 44-yards for a score.
If you're scoring at home, that was two plays, 31 seconds, and 78 yards for a 14-0 lead. It seemed like the typical rout was on, but WVU began to lose its swagger after that.
Maryland fought back with a quick strike down the field, using four straight runs to get WVU's defense to sell out for the ground game. A well-run play-action caught the D off guard, and Maryland took advantage with a 42-yard TD pass from Hills to Riggs to make it 14-7.
After forcing a Mountaineer punt, the Terps kept up the pressure by controlling the clock and grinding out a 9-play drive. Maryland managed to tie the score by converting a 3rd-and-8 with a 12-yard TD pass to Marcus Leak.
West Virginia responded with its own sustained drive, moving all the way to the Terp 8, mostly on the arm of Geno as the ground game gave little to no support. The possession dried up, though, and Tyler Bitancurt's 37-yard field goal made it 17-14.
The Gold and Blue padded their lead just before the half, with Smith finding a wide-open Austin in the end zone for a 24-yard score. Stedman Bailey's first catch of the day went for 15 yards and helped key the drive, while Austin took advantage of a blow assignment to break out all alone behind the secondary. The PAT made it 24-14 at the break.
Neither team found the scoreboard in the 3rd stanza, but WVU's defense made had a key takeaway to hamstring the Terps and give the Mountaineers a scoring opportunity.
Maryland seemed to be in business after Leak took a short pass and juked his way 25 yards through the defense, but WVU's Cook pushed the ball loose just before he was tackled. Terence Garvin recovered, setting the 'Eers up at their own 33.
From there, Smith targeted Austin almost exclusively, going to the elusive senior on 6 of 9 plays. The two combined for 59 yards passing on the drive, including a 34-yard connection to close out the series with a score. After the PAT, the count stood at 31-14.
While there weren't 60 points worth of highlights, the Mountaineers beat a rival team comfortably on Saturday.
Maryland would keep things interesting, though, posting a two-play drive to cut into the WVU lead. Hills found the Austin look-alike Diggs on what should have been a 10-yard gain, but the speedy frosh made several defenders miss, taking to the sideline for a 56-yard TD to keep things within reach at 31-21.
The tension went up another notch after WVU went 3-and-out on its ensuing touch and Maryland quickly drove to midfield. But Karl Joseph sacked Hills for a loss of 12, and the Terp QB was flagged for intentional grounding on the play. That brought up 4th-and-21, and pressured Hills threw a desperation heave down the middle of the field which was picked off by WVU's Wes Tonkery.
West Virginia needed only a few successful plays to run out the clock and ice the victory. The team converted a key 3rd-and-1 to bring out the victory formation and end the game.
West Virginia begins Big 12 conference play this week when they host Baylor (3-0) for Homecoming. The school's first-ever game in its new conference is set to kick Saturday at Noon and will be televised by FX.
Trackback URL of this entry
http://www.wemustignitethiscouch.com/modules/weblog/weblog-tb.php/3346
The comments are owned by the poster. We aren't responsible for their content.
Poster
Thread
msaul37

Posted:

9/25/2012 7:24 pm

Updated:

9/25/2012 7:24 pm

From:

Alkol, Lincoln County

Re: WVU tops Maryland 31-21

the game felt to me like it was already decided, and the score was 21-0. and that's how we played the game. we were always in control.