2012-2013 WVU Football Season Preview- Defense


Editor's note: Click here for part 1 of the 2012-2013 WVU Football Season Preview- Offense. This preview was a joint effort from longtime WMITC contributor Dan and Jude.
"Ah changes are taking the pace I'm going through."
– David Bowie
What a transitional year for the WVU defense and program as a whole. No longer will be the team be busing up to Piscataway, NJ but rather flying cross time zones to Middle of Nowhere, TX. No longer will the team be a 12 NOON "Big East Game of the Week" on some online-only content provider for which nobody has access, but will be on national broadcasts on both East and Gulf Coasts.
A new era is dawning on WVU Football. And one of the most challenging changes to absorb is the Big XII offensive landscape and powerful offenses that come with that. Championship-winning offenses. Heisman-caliber quarterbacks. All-American roster 2-deeps, it almost seems.
With that change in conferences comes a complete shift from a 3-3-5 odd stack ("smoke and mirrors") alignment to a more basic 3-4 / 4-3 ("tried and true") alignment. Coach Jeff Casteel was a consistent rock on the defensive side of our program since Rich Rodriguez was still dragging a comb across his head. But following Casteel's departure to Arizona to join Richrod, the Mountaineers turn to a been-there-before co-defensive coordinator arrangement of Joe DeForest and Keith Patterson.
The good news is there is some familiarity with WVU's opponents' offensives already established. But that is in the past and can only take former Oklahoma State defensive assistant Joe DeForest so far. Change is inevitable, change is constant. The question is, can WVU as a defensive unit handle the pace?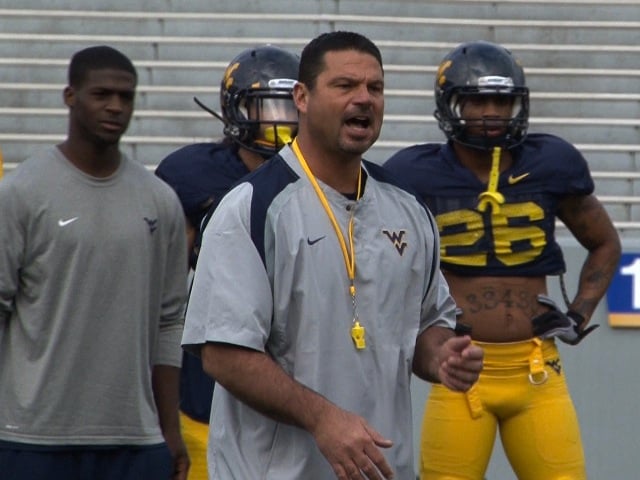 Co-defensive coordinator Joe Deforest is familiar with Big 12 defenses, plus he has a gold whistle, so you know it's good.
"What's my age again? What's my age again?" – Blink 182
One thing we can all agree on is that the Mountaineer defense is going to be young. This age and inexperience may take some adjustments while installing the defense, but it also provide less "unlearning" of the previous 3-3-5 defense, or aged not-so-good habits that the coaches will need the players to break.
There have been some reports of up to 8 true freshmen seeing the field this season. That's a lot of fresh-faces to be trotting out against offensives that routinely put up 40 points and 300+yard passing games. Friday night lights of the high school fields will be replaced by Saturday afternoons in stadiums packed with as rabid fans as you find in a conference not named the SEC.
(Looking at WVU's depth chart 3-deep at every position, you'll find 10 true or redshirt freshmen and only 6 seniors.)
Thankfully the young defense can rely on the fact the offense should be finding the end zone as many times as Coach Holgorsen has a sugar-free Red Bull tilted over his head. This should allow them to become comfortable with the new schemes and force enough turnovers to make up for defensive breakdowns. The defense can't afford to play like the 18-and-19-year-olds they are, and must forget how young or inexperienced they may really be. Instead, they must focus on their assignments and ability to get after the ball and put the offense in the best position to make the refs put their hands in the air like they just don't care.
"Yo, you best protect ya neck" – Wu Tang Clan
In the event you have never looked up the Urban Dictionary meaning of "protect ya neck," besides the first definition of "what you need to do when the Wu comes for that ass," you will see it means you must "respect/re-examine your vulnerability and that of other people."
One thing top defenses are known for is exploiting another offense's weaknesses. Whether it's disguising a blitz against a weaker side of the line, double-teaming the best receiver and forcing the QB to look for less reliable options, or deviating from their usual defensive game plan and throwing everything including the kitchen sink at the opponent that wasn't in their game tapes.
Although this year's team doesn't have the unusual odd-stack defense to catch teams off guard, it does have some savvy coordinators eager to put a mix of youthful and experienced players in the right position to defend some of the most electric offenses in the country.
2011 stalwarts
Bruce Irvin, Julian Miller, Keith Tandy, and Najee Goode
aren't walking through that door. But here's who is:
Defensive line
Losing Bruce Irvin and Julian Miller from the defensive line means that the Mountaineers are losing the players responsible for almost half of their team sacks last year. If the game against Marshall on Saturday was any indication, pressuring the quarterback may be an issue for this year's defensive line, as the Mountaineers got little-to-no pressure on the quarterback as he amassed over 400 yards of passing.
On the flip side, while Irvin was a master of creating havoc for quarterbacks, the one knock on his game was his ability as a run-stopper. The Mountaineers may improve that area of defense this season, and already showed promise by holding Marshall to just 2.9 yards per carry on Saturday.
Juniors
Will Clarke
and
Shaq Rowell
joined senior
Jorge Wright
as starters on the d-line. Clarke and Wright will be responsible for creating pressure from the ends, while 310-pound Rowell will try to occupy blockers and create havoc from the nose tackle position to free up WVU's stable of linebackers to make plays. Early reviews of Rowell's play have been extremely positive, while Clarke and Wright have more experience and reps along the defensive front and should provide stability to a defense needing all the stability it can get.
Those 3 starters will rotate with true freshmen
Korey Haris and Christian Brown
, as well as redshirt senior
J.B. Lageman
. Brown drew high praise from Rowell in the offseason, as reported in
this wvusports.com article
:
"That kid is showing me some stuff that I haven't seen from another freshman. He's impressed me a lot. He's still got to get some things down, but physically, that kid is ready to play and I think he can play in any conference."
Nose tackle and Official Large Person Shaq Rowell hopes to fill up a lot of space on the defensive line while squeezing through to make some plays in the backfield from time to time.
Linebackers
The main difference between the 3-3-5 and the 3-4 is that the extra defender in the box will now be a linebacker instead of a defensive back.
Senior
Terence Garvin
is a former safety that will be expected to create pressure off the edge for the Mountaineers and should be a disruptive force. While the Herd did keep him out of the backfield for the most part on Saturday, he still recorded the team's only sack and had 2 tackles for loss.
In a bit of a surprise, redshirt freshman
Isaiah Bruce
(Bruuuuuuuuuuuuce) started in front of junior
Doug Rigg
as the strong-side linebacker on Saturday, and rewarded the coaches for that decision by recording a team-high 16 tackles and a rumbling fumble recovery for the team's first defensive touchdown of 2012. Rigg himself chipped in with an interception later in the game.
Redshirt junior
Tyler Anderson
starts at the buck linebacker spot while sophomore
Jared Barber
mans the weakside linebacker spot.
The Mountaineers will rely on a steady rotation of linebackers throughout the game. Redshirt sophomore
Wes "Honky" Tonkery
(thank you, Chris Berman) backs up Garvin while sophomore
Shaq Petteway
plays behind Barber, and senior
Josh Francis
backs up Anderson.
The linebackers made a strong showing on Saturday, scoring a TD and creating another turnover while holding the Herd to limited success in the rushing game. They may be a welcome respite from a building process in the condition of most concern for the Mountaineers...
Defensive backs
The position with the most questions for the Mountaineers sure didn't do anything to quell those concerns against the Thundering Herd, giving up over 400 yards passing to a quarterback not exactly heralded as the next coming of John Elway.
Redshirt junior
Brodrick Jenkins
and senior
Pat Miller
start at corner for the Mountaineers. Both have seen extensive snaps on the defensive side of the ball for WVU over the past few years, and should provide veteran leadership to a backfield that is young in several places. Pat Miller does occasionally create a turnover, but is seen far too often as the back of a jersey chasing some receiver that is 10 yards behind the Mountaineer defense. (Indeed, he was 4th on the team in tackles against Marshall with 8 tackles. When you're a corner and recording beaucoup tackles, that is, and please forgive the extremely technical football terminology, "not good.")
Freshman sensation Karl Joseph starts at the free-safety spot, and is known already for his thunderous hits in the secondary. Joseph turned down offers from South Carolina, Florida, Tennessee, and Cincinnati to join the Mountaineers. Head coach Dana Holgorsen views him as an uncommonly mature freshman capable of playing right away.
"I'm not saying he doesn't make mistakes or miss tackles or any of that - he does - but from a demeanor standpoint, the effort and the maturity and the physical capabilities of being able to handle it, he is the guy that is going to be fine," Holgorsen said in
this article from the Charleston Daily Mail
. Joseph rewarded the coaching staff with their decision on Saturday by making 7 tackles, including 2 for a loss.
I believe I am going to enjoy the Karl Joseph era at WVU.
Redshirt junior and Orange Bowl Mascot Abuser
Darwin Cook
starts at the other safety spot again for the Mountaineers, providing some stability in the secondary, although he too was seen chasing after wide-open Marshall defenders a time or two on Sunday.
He will be backed up by true freshman
K.J. Dillon
and Joseph will be backed up by redshirt sophomore
Ishmael Banks
. True freshman
Nana Kyeremeh
may see time at safety as well as corner this season, while sophomore Avery Williams and redshirt senior Cecil Level will back up Miller and Jenkins.
Fortunately for the secondary, a bye week and then games against JMU and Maryland give the Mountaineers some time to gel before their first-ever Big 12 games appear on the schedule. Hopefully they will have repaired the gaping holes before Big 12 offenses smash them open.
Wrap-up
While the offensive firepower of the Mountaineers should ease the pressure on the defensive side of the ball, a propensity for high scores could leave the secondary exposed if the game turns into an air raid shootout. WVU will need to create pressure with its d-line and rushing linebackers to keep opposing QB's from sitting back in comfort while picking from an array of wide-open options in the secondary.
Again, the Mountaineers have some time to figure it out. But if they don't, expect to need every bit of the 70 points per game WVU is averaging in 2012.
Trackback URL of this entry
http://www.wemustignitethiscouch.com/modules/weblog/weblog-tb.php/3342
The comments are owned by the poster. We aren't responsible for their content.
Poster
Thread
msaul37

Posted:

9/5/2012 3:24 pm

Updated:

9/5/2012 3:24 pm

From:

Alkol, Lincoln County

Re: 2012-2013 WVU Football Season Preview- Defense

just letting you know, the link on the main page takes it to the wrong article.